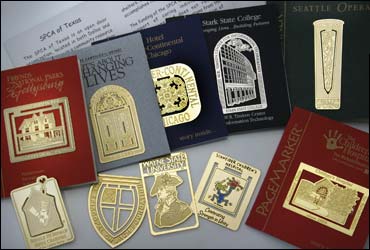 Custom PageMarker Bookmarks


Below you will find our examples of our custom etched metal PageMarker bookmarks. For your custom bookmark, we don't just imprint your logo onto pre-manufactured templates – we take time & precision to engrave your logo or building. Regardless of the detail of the logo or building you need etched, you can rest easy knowing that above all else, the team at Marbex Inc. places an emphasis on quality. In addition to our years of experience, we place the needs of our customers before all else. No matter what type of bookmark you need, we are here to make it a reality.

For your custom bookmark, we use fine duplex card stock and metallic inks that are carefully placed on a card that when opened, reveals your message and contact information. You want to recognize your employees, donors, or even just friends, and we know that our custom PageMarker bookmarks will make the perfect gift for anyone.

They are light enough to be mailed with a one page 'thank you' note without additional postage and are always universally appropriate. There are no categories, no restrictions in design--they are all custom and make for the best donor recognition gifts!

For more information about custom bookmarks, ornaments, or any of our other gifts, contact us today.